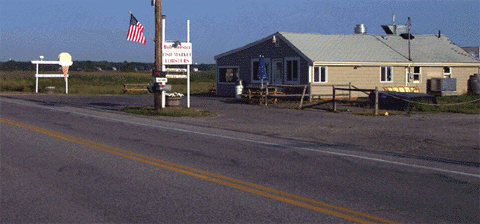 Photo copyright © 2001 Pete Wishnok (a bit outdated but will try to fix soon.)

Bob Lobster is on the Plum Island Turnpike just beyond the Airport as you head toward the Island. A convenient stop in either direction, but the lines can be long.
978-465-7100


Aggressive live lobsters, steamers, lobster rolls, chowder, hotdogs, and ice cream, along with a small but nice selection of fresh fish. Take out or eat there.

The downside is the streetlight, which seems to be the brightest in the area and contributes probably more than necessary to the surrounding light pollution.



Click here to visit their website...
...and here for the Google satellite map with Bob's highlighted.